Virtual Roundtable by GROW - Clean Label Insights: How Does Gelatin in Foods Meet Consumer Demands?
Replay | GROW's virtual roundtable | December 7, 2021 at 4 p.m. (CET)
The GROW virtual roundtable was an opportunity for GROW to bring together its members, food product developers as well as trend and research experts to discuss challenges and opportunities brought by clean label trends to the food industry, gelatin and dairy industries in particular, and its appeal to consumer demands.
The focus was on "clean label," what it means, and how the gelatin industry can meet evolving consumer trends and demands. The clean label trend has moved forward considerably throughout recent years but the exact definition of what constitutes a "clean" label remains unclear. The key elements of a clean label seem to be the consumer's desire for simpler products with a transparent and short ingredient list they understand. At the same time plant-based meat and dairy alternatives are rising in popularity, but it remains unclear whether they can fully match consumers' expectations in terms of clean label. How can natural food products like gelatin or dairy take the lead and meet those demands?
If you have any questions regarding the roundtable, please contact GROW through the contact form. Please do not use the QR code communicated during the live event, it is no longer valid.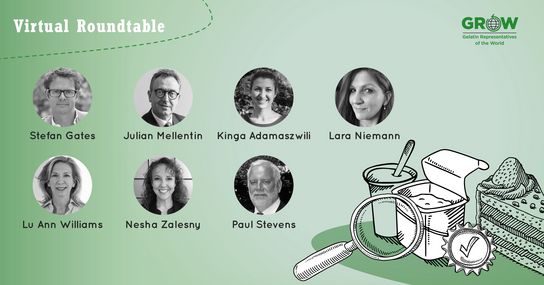 Stefan Gates: Moderator, TV presenter, Food and Science Writer
Lara Niemann: Marketing Director at GELITA, GROW representative
Paul Stevens: Director Special Projects at Rousselot, GROW representative
Nesha Zalesny: Technical Consultant at IMR International
Julian Mellentin: Director and Food Business Expert at New Nutrition
Lu Ann Williams: Global Insights Director at Innova Market Insights
Kinga Adamaszwili: Health and Food Law Officer at European Dairy Association (EDA)